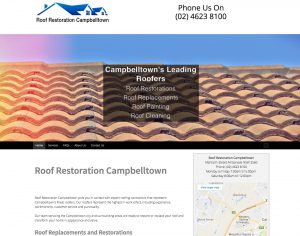 Located about 55 kilometres south west of Sydney, Campbelltown is a major centre and city of Sydney in the state of New South Wales. The suburb has a population of more than 10,000 (2011 Census) and was established in 1820.
Roof Restoration Campbelltown is a campaign designed to generate leads for a Campbelltown based roofing business. The website is currently sitting around position 5 Google search results for the search term "Roof Restoration Campbelltown" and is generating 8-10 leads per month. The leads are coming from Campbelltown and surrounding suburbs which is great that it is reaching further than the intended area.
This campaign is one of Local Lead Marketing's youngest campaigns, being kicked off only 3 months ago.
The major service offered by this roofing company is roof restorations, and other services include;
roof replacements
roof cleaning and roof painting
roof repairs
gutter replacements
gutter installations
leaf guard installations.
The campaign is another full blown campaign; it utilises social media (Facebook, Twitter, Pinterest, Google+, YouTube) and Google My Business for local listings. Each network supports each other and the site shows prominently in a local search due to a lot of work in submitting the site to local directories.
Continuing SEO marketing efforts should see this site reach a number one position in Google within a few months.
For the last 28 days, the site has resulted in over 300 impressions which is pretty impressive for a smaller populated area.
According to the client, the conversion rate from leads to converted jobs is very rate, and Local Lead Marketing report that this client is one of the highest converters. This is a great result for the business partnership.