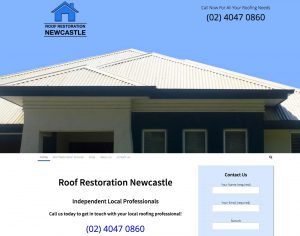 The city of Newcastle is the second most populated area in New South Wales and was established in 1804. Roof Restoration Newcastle was created for a local roofing company looking to expand their business in terms of number of crews. Already doing quite well, the owner has a keen business sense and is constantly looking for new techniques to expand the business.
This campaign is a young campaign having kicked off with a client around April 2016. SEO and other marketing efforts have been steadily applied to the campaign over time, utilising a drip feed strategy.
The website targets multiple keywords and the primary keyword is Roof Restoration Newcastle. Other keywords include roof replacement Newcastle, roof repairs Newcastle, Newcastle roof restoration, and Newcastle roof replacement just to name a few.
The search volume of the primary keyword is 140 searches per month and the website is currently sitting at around position 7 in Google for the search term. The campaign is generating around 10-15 leads per month for the client and is steadily rising.
For the last 28 days, the site has had over 1,000 impressions for Australia only, and nearly 5,000 worldwide.
Architecturally, the site was built using WordPress, and utilising the Pagelines DMS platform.
Other online marketing efforts include social media (Facebook, Google Plus & Google My Business, Twitter, Instagram and Pinterest).
The goal of the site is to promote the roofing services offered by the client, using the primary keyword as the hook to get people interested or needing roof restorations to visit the site.
The major services offered and promoted on the site include;
roof restorations
roof replacements
roof cleaning
roof painting
roof repairs
gutter installations & replacements
colorbond roofing.
Summary
Feedback from the local Newcastle client indicates that they're quite happy with the quality of leads coming through. Overall the campaign is proving successful for the client and marketing efforts will continue until the site is appearing at the number one position for the primary keyword.