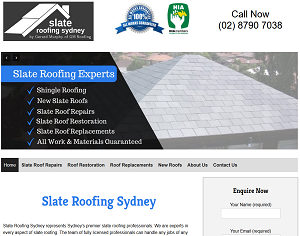 Slate roofing Sydney is an exciting new project that we hope will get great results. Local Lead Marketing will be working with roofer Gerard Murphy in chasing organic rankings in the super competitive niche of Slate roofing. The existing competitors have beautiful websites and have clearly spent a lot of money on a range of SEO and marketing.
This is a very new campaign and is being launched and marketed at the start of August 2017. We did however manage to find the domain name http://slateroofingsydney.com.au/ which fortunately had some domain age and even a few backlinks pointing to it. This will make the process of ranking the site a lot faster and easier.
All images for the site have been provided by Gerard and his team of local slate roofing jobs within the Sydney region but mainly around the North Sydney area. We have been very fortunate on this front as Gerard had countless years of photos from a variety of job types. This has made it very easy to provide page specific content for each of his services.
This is a very targeted campaign as the roofer only works with slate roofs. He does however perform a variety of services on these types of roofs which gives us a greater playing field to focus on. The main roofing services that he provides and we will be marketing for are:
Slate roof repairs
Slate roof restoration
Slate roof replacements
New slate roofs
As per usual this is a responsive website that has mobile friendly features such as click to call and a page load speed in the 90's.
As this will take a approximately 8-10 months to see consistent results from our SEO efforts we are running a Google Adwords campaign until we see at least 3-5 leads come in from organic traffic.
Save
Save
Save
Save